(aka – Cooreei Mill, Cooreei Cornflour Mill & Cooreei Maizena Mill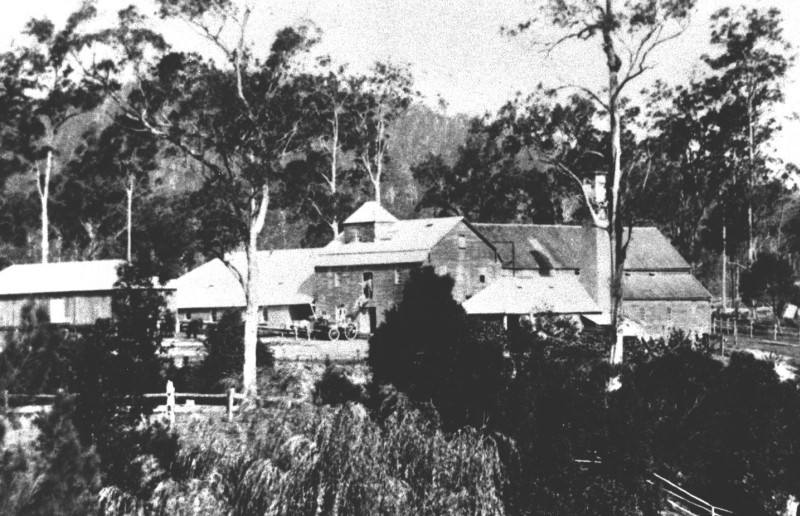 The only surviving picture of a once large mill that operated on the banks of the Williams River opposite the town of Dungog between 1878 and 1902.
The same site today.
Description of the Mill
Cooreei mill (named after the prominent hill below which it stood) measured 120 feet by 40 feet, had three floors above and one below ground, and was built on hardwood piles of weatherboard that were oiled not painted. It also had brick drying rooms, a 3,000 gallon tank that was 16 feet by 6 feet by 5 feet, a reservoir with filters, and was powered by a 24 hp steam engine imported from Scotland, with grinding stones imported from France. The entire mill was 18 months in building, cost between £6,000 to £7,000 and commenced operations in mid-1878.1
In 1889 the Cooreei cornflour mill installed its own fire engine, named 'The Fire King' and it was reported that: 'There are 500 feet of wrought iron pipes laid underground round the mills, with three stand pipes situated in different positions, so that one length of hose pipe would reach the seat of fire in any part of the building.'2
The Dungog Municipal Council rates book for 1895 has an entry for a 'Maizena mill & 2 cottages' with a capital value of £6,000, the owner being listed as John Wade & Co.3 Wade & Co. was owned by two people, John Wade and R L Alison. The mill's manager was Kenneth McDonald from Scotland and it employed from 8 to 16 men plus 40 to 45 packing girls.
Economic Background
By the 1860s a great deal of corn was being grown in Australia but unlike in the United States, little of this was for human consumption. However, in that same decade what was to be known in Australia as 'cornflour' (cornstarch) became increasingly popular. This popularity was for an imported product, which led Mr Matthew Munn, after a visit to London in 1862, to set up the first maizeina (cornflour) mill in NSW. This Munn did in 1867 at Merimbula near Two-fold Bay in the heart of maize growing country. Munn's Maizena became a successful product that by the 1870s was advertised in Maitland, where the established storekeeper John Wade of nearby Dungog would undoubtedly have seen and probably stocked the product.
Whatever the inspiration, Dungog was also the centre of a maize growing district and by 1878 John Wade, in partnership with local landowner Robert Alison, invested £8,000 to erect what was reported to be the largest cornflour mill in the colony. By 1888, in addition to Munn's on the south coast, a least one other cornflour mill was operating in Sydney, on the Lane Cover River at Chatswood.
Wheat growing in the Williams valley was restricted by the development of rust and many farmers changed to maize. This maize was taken by bullock dray to Clarence Town for shipment by steamers.4 John Wade was a Dungog storekeeper who saw the difficulties local farmers had in getting their produce to market and began to investigate the possibilities of a corn mill.5 Corn at that time was being imported with a 1d per lb duty and sold at 8d per lb. In 1866, a corn mill was established and paid local farmers between 1/3 and 1/6 per bushel. A bushel of corn was 60lb and yielded some 20 lbs of corn flour.6 But the real value of corn came not from a simple grinding into corn meal but through a more complex refining that produced what was then called 'maizena' or what is today known as cornflour.7
A major boost to the local economy was made when John Wade and local landowner Robert Alison of the 2,000 acre East Bank Estate established a cornflour mill able to effect this refining on the edge of Dungog in 1878.8 Together the two invested £8,000 in what was considered a significant enterprise even on a colony level, especially considering that most processed corn at this time was being imported.9 Equipment and experienced people were also imported in 1877 and by June of 1878, the Cooreei Corn Mill began operations, named after the hill that sits prominently just to the east of Dungog on the property of Robert Alison.10
Local impact
For the local economy, the mill meant much employment and steady sales for local farmers who increasingly grew corn until it was reported 70% of the crops grown in the district were corn. The significance of the new mill was that is allowed the production of cornflour, a more processed product requiring much clean water, readily available from the Williams River.11 Advertising for Wade's Corn Four included the slogan – 'For Infants, Invalids, and Family Use'. Another local bonus was that the fish feeding on the mill waste downstream grew greatly in size – to the delight of local fishermen.12
Prices and production seem to have varied greatly. In 1882, for example, Christopher Lean, a local farmer, wrote that is cost him 25/- to break a horse, and that he had 400 bushels of corn unsold. Six loads of maize to J Walkers mill was at 5/- per bushel and a few months later that "Wade is giving 4/6 delivered at the Mill".13 By 1884, prices of corn had dropped even more from 4/- to 3/9 delivered and Wade planned stop buying at the end of the month.14 The increasing size and prosperity of the local economy led not only to increased investment in this corn mill but an expansion into wheat milling and also rice flour.
At one point a broken cog halted production and needed six months to send to England for a replacement. A local worker, Samuel Redman, was able to make a replacement in 3 months using only a cold chisel. This worked so well that it was left in place after the new part arrived.15
When the NSW Governor visited Dungog in 1892 to lay the foundation stone for the Dungog Cottage Hospital he first visited the mill.16
Global economics (or Free Trade vs. Protectionism)
Despite the growth of the period, in 1880 the mill is reported to be idle due to competition from imported corn and later in the decade buyers and growers are in dispute over bags and the best selling time.17 In addition, a shortage of local workers led to the packing part of the processing being transferred to Sydney, temporarily in 1878 then permanently in the late 1880s to help gain cheaper steamer rates.18
Rival mills opening, and in 1890 a depression, then floods and a miners strike that halted the steamers for a time, all impacted on the economy and the viability of the mill.19 In that same year, a strike by ship crews closed the mill, which was sending flour in bulk to Sydney at the time using 6200 bags.20 In 1894, the duty on rice starch was lifted and the local corn mill ceased to mill this product.21 Despite these factors however, more corn machinery was acquired in 1896.22
John Wade was involved in politics, running at the elections in 1887 (losing by 162) and 1889 (626 to 482), against the sitting member Brown.23 Wade naturally ran on a protectionist agenda. He was also an energetic businessman, at one point traveling to America to learn about 'dry grinding'.24 It was soon after his return from this American trip that the owners announced they 'intend to remove their maizena mills from Dungog to Newtown'.25 They stated that 'carriage of maizena to the metropolis, where they do the packing, is a big item, and that in order to cope with the increase of trade consequent upon the abolition of border duties between the various States, they are compelled to remove their factory to the centre of distribution, Sydney.' The Federal government was intending a 1d per lb duty on imported cornflour.26
Around this time, the economics of corn was that is cost 2d per lb to process. One bushel of corn yielded 20 lbs of corn flour and cost 1d to package. Thus, one lb of corn flour cost the mill 3d to produce of which the farmers received 1d per lb. The mill sold this on for 3½d per lb and it retailed at 4½d per lb. For the farmer, an acre could produce 60 bushels of corn, or a 25 acre crop might yield £100.27
Fate of local enterprise
The mill closed its operations in Dungog in March, 1902 and reallocated to Sydney where it operated in Camperdown on the corner of Church and University Streets until it was destroyed by fire in 1922, Brown & Poulson having purchased it from Wade in 1908 for £50,000.28
John Wade shifted his home to Sydney's Ashfield in that same year.29 Wade sold his house and land in Dungog's south and was given a farewell dinner. His new city home was named 'Melbee' after the large property that could be seen from his old Dungog home.30 Wade died in Sydney in 1931 aged 90, still remembered in Dungog where his 83rd birthday was marked.31
Archaeological possibilities:
Points to consider about the Cooreei Cornflour Mill and the potential value of any archaeological study:
The mill was one of only two such industrial enterprises established outside the Sydney area. The other was the Merimbula Maizena Works of Mathew Munn.

In its day, it was the largest such mill in NSW and probably Australia.

An outstanding example of local enterprise gradually defeated by wider (global) economic considerations.

Details are sketchy, including its exact location, and unlikely to be improved upon without archaeological investigation.